When we think of celebrating Thanksgiving, an image of gathering around the dinner table with family often comes to mind. However, a traditional meal isn't the only way to celebrate this holiday. York is home to several events throughout November that'll help you embrace the Thanksgiving spirit.
Here at Apple Chevrolet, we want to help you plan your holiday season and ensure you make great memories with family and friends. Read on to discover local Thanksgiving happenings in and around York. Whether you're interested in live music, flag football, or 5K races, we're bound to discuss an event that interests you.
SMT Turkey Trot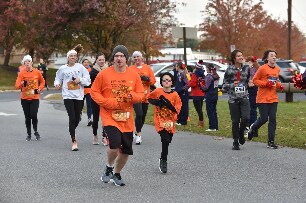 Vickie's Angel Foundation hosts the SMT Turkey Trot every year in honor of Shirley Mae Taylor, a New Cumberland resident who passed away from cancer in 2003. Proceeds from the event help families overcome financial struggles as they encounter cancer-related medical bills. The event on Thanksgiving morning also emphasizes the family and tradition of the holiday, as it brings together community members to run a 5K race or walk.
The SMT Turkey Trot differs from other 5Ks in that it has a Cranberry Challenge. This event is within the 5K and has participants complete various fitness tests. You'll carry odd objects, perform bodyweight exercises, and move weights to proceed in the race. It's a fun way to involve every family member and drastically increases the number of calories you burn before your big Thanksgiving meal.
Though the family-friendly event emphasizes fun over competition, there are some prizes up for grabs. The overall male and female winners get a family-sized turkey, and the top three male and female finishes in each age group get desserts.

SIGN UP FOR THE SMT TURKEY TROT
York YMCA 5K Turkey Trot
Seeing how popular 5Ks are on Thanksgiving, it's no surprise we've included another race on this list. The York YMCA 5K Turkey Trot is an annual tradition and will start at 9 a.m. on Thanksgiving morning this year. You'll take off from the start line on Market and Newberry Streets in York and follow the biking turkey. People of all ages get a kick out of this unique pack leader and have a blast as they mingle with other community members.
We know it can be intimidating to run just over 3 miles, especially if you've never done it before, but feel free to walk the course with your friends and family. The relaxed atmosphere encourages everyone to participate and will help you feel good about your accomplishment when you cross the finish line.
Turkey Bowl at Grace Baptist Church of Millersville
Aside from running races, another essential Thanksgiving tradition is football. The NFL hosts Thanksgiving Day games that typically feature the Detroit Lions and Dallas Cowboys in some capacity. Thanks to Grace Baptist Church of Millersville, you don't have to be a professional football player to partake in this tradition. The church is hosting its annual Turkey Bowl on Thanksgiving morning from 8:30 to 9:30 a.m. This flag football tournament pits teams against each other in a friendly competition and allows you to burn some calories before eating a big meal.
Registration is currently open, so be sure to fill out the online form and complete the waiver. Participants can indicate whether they have friends or family members they want to play with, though these participants should complete their own forms. Grace Baptist Church of Millersville will use the forms to create teams of about ten players each. During the game itself, each team will have seven players on the field at a time and can substitute players throughout the tournament.
Central Market and Kable House Presents Chris Pierce
Central Market on North Beaver Street and Philadelphia Street has been around for over 125 years, allowing visitors to shop from local vendors. The market is lively all year long, but consider visiting sometime in November. You can get holiday-specific crafts and decor or source the freshest ingredients for your Thanksgiving meal. In addition to having regular hours on Tuesdays, Thursdays, and Saturdays, Central Market hosts a "First Friday" event on the first of every month.
The establishment also has several events throughout November, including Kable House Presents Chris Pierce. Kable House is an independent concert series that features up-and-coming artists in intimate evening performances. Renowned singer Chris Pierce is the featured act on Nov. 6, so be sure to check it out. You and your family are sure to appreciate the acoustic, bluesy set as you settle into the autumn atmosphere.
2022 Field of Honor
One of the biggest components of Thanksgiving is expressing our gratitude. So, why not visit the 2022 Field of Honor display in Dillsburg? This impressive arrangement of over 400 flags honors local and national heroes who served our country. From Nov. 5 to Nov. 19, visitors can walk through the display to pay their respects and even make a donation to dedicate a flag in someone's name. This event is a great way to express your appreciation for those who have made sacrifices for our freedom.
Children's Book Bingo
Many people associate Thanksgiving and the fall season in general with nostalgia, which you can tap into through reading. The New Oxford branch of Adams County Library is making it easy to indulge in this activity by hosting Children's Book Bingo throughout November. Kids can pick up a bingo card starting Monday, Oct. 31, making it the perfect way to transition from Halloween to Thanksgiving. All month long, kids fill out their bingo cards by reading books. When they complete three or more rows, they can trade in their cards for prizes.
As this guide has demonstrated, dinner isn't the only way to celebrate Thanksgiving. You can spend time with family and friends, embrace the fall spirit, and express your gratitude in many ways. Be sure to check out these events in York and let us know if there are others that deserve to be on this list. Here at Apple Chevrolet, we want to continue helping our customers find the best local happenings.